Products
TATPROF solutions allow to realize the most challenging ideas of architects
HVF with porcelain stoneware lining TP-50200 KG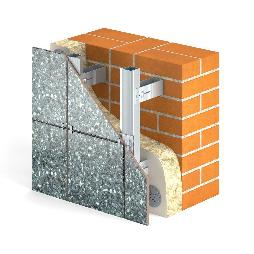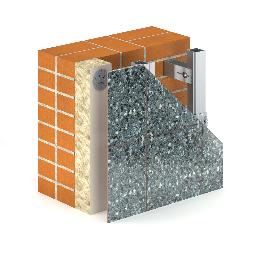 TATPROF hinged ventilated facade (HVF) system (Porcelain stoneware) is designed for lining of building facades and other building structures with porcelain stoneware slabs with visible fastening and walls thermal insulation increasing in accordance with the current standards for thermal protection (SNiP 23-02-2003).
HVFs have a number of advantages:
aesthetics;
creation of good environment conditions inside the building;
reduction of foundation loads;
cold resistance;
easy and speedy installation regardless of the season;
workability and maintainability;
long maintenance-free service life.
The ventilated facade structures of TATPROF system are used in new construction and in the reconstruction of buildings:
in windy areas according to SP 20.13330.2011 taking into consideration the height and location of buildings;
with the usual geological and geophysical conditions, as well as on collabsible soils of the 1st type according to SP 22.13330.2011 and on permanently frozen soils in accordance with the 1st principle according to SNiP 2.02.04-88;
with different temperature and climatic conditions according to SNiP 23-01-99 in dry, normal and humidity zones according to SP 28.13330.2012;
with non-aggressive, slightly aggressive and average aggressive environment according to SP 28.13330.2012.
The use of system structures in seismically hazardous areas should be justified by the results of calculations for seismic effects according to SP 14.13330.2011 and developed recommendations based on tests of specialized authorities to limit the buildings height and implement additional structural measures.
The HVF design of TATPROF system (Porcelain stonework) consists of:
from multipurpose, supporting and mounting brackets of aluminum alloy for installation on a building base (wall, floor slabs) using anchor dowels or anchors;
supporting aluminum vertical rails fixed to the brackets by means of stainless steel blind rivets or aluminum blind rivets with a stainless steel core;
heat-insulating slabs, which are installed on the wall in one or two layers and are attached with disk-shaped dowels;
a wind-and-water-tight membrane (if required), which is fixed during the structure installation with the same disk-shaped dowels on the outer surface of the insulation layer;
lining elements (external decorative and protective screen) in the form of porcelain stoneware slabs with visible fastening guides with the help of cleats;
adjacency of system components to the apertures, corners, basement, roof, and other parts of the building.
The TP-50200 KG system is mounted using these structures and meeting fire and technical requirements given in the expert report of "TsNIISK of V.A. Kucherenko " and belongs to the class of fire hazard K0.
