Products
TATPROF solutions allow to realize the most challenging ideas of architects
TP-78 EF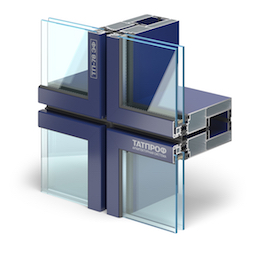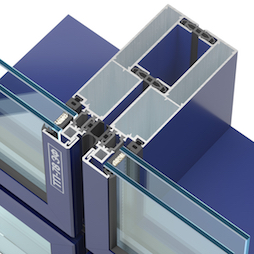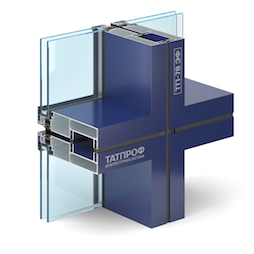 Application
TP-78 EF component facade system is designed for high-rise construction in climatic conditions of Russia. This system does not require installation of scaffolds during construction mounting. Façade installation is fulfilled by ready-made blocks assembled on site. Factory-manufacturing of the components provides high quality assembly.
The profile front surface width is 78 mm. Impervious and transparent filling with thickness from 6 mm to 50 mm.
TheTP-78 EF series of the facades allows to manufacture constructions with rotation by different angles (inner, outer, inclined). Thermal expansion compensation due to sealing rubber insert between elements. Block is fixed to the building by means of steel and aluminum mounting components. The design provides for possibility to adjust in three axes.
The component facade system TP-78 EF has two design options:
Component without opening parts;
Component with casement.
Feature: two design options on the front side of the facade look very much alike, the casement is invisible. Fittings for external opening are top-hinged (on friction hinges) and parallel-sliding, with manual and automatic drive. The fittings of leading European companies such as ESCO, GIESSE, SOBINCO are used.
Technical characteristics
Compound extruded profiles made of 6063 aluminum alloy according to GOST 22233-2001, with geometrical dimensions corresponding to GOST 22233-2001.
As a protective and decorative coating of aluminum profiles, polymeric powder coating and anodizing are used. PPP color is according to RAL color catalog.
Infilling
For the transparent part of plate glasses and stained-glass window infilling the plate glass with 6 mm width according to GOST 111-90 is used; as well as single pane and double-glass panes with up to 36 mm width according to GOST 24866-99 with obligatory mounting of support pads. Direct contact of the glass with aluminum parts is not allowed.
Component parts
For sealing of aluminum construction connection points EPDM-based seals are used - rubber type 1b GOST 30778.
Material of plastic products:
PVC UV-10 TU 6-01-737-76;
polyethylene 204-15 Grade 1 GOST 16338-77;
polypropylene TU-T-06-V-03-93
Fittings
The TP-78 EF system uses self-tapping screws with a protective coating of stainless steel.
Installation
Installation is carried out in accordance with the requirements for transparent facade structures and installation and operation instructions. Steel structure elements that are in contact with aluminum parts must be galvanized. The thickness of the zinc coating is not less than 15 microns.
Download documents
