Products
TATPROF solutions allow to realize the most challenging ideas of architects
TPSK-60500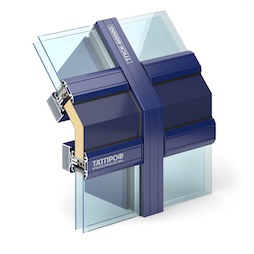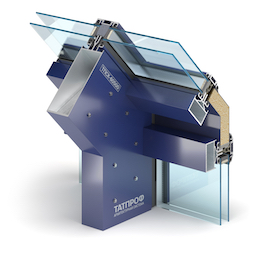 The TPSK series is designed for manufacturing of transparent coatings of various configurations: from single-pitched and double-pitched roofs to domes, curved arches and pyramids of complex configuration. This series is equipped with additional profiles for the execution of internal angles of hippped roofs, tops of domes and pyramids, for joining points of pillars, as well as a reinforced profile inserts for cross-bars and second-level pillars going through increased loading force.
The designs provide two-level drainage of moisture (for leaking water, for condensate drainage). The range of the TPSK-60500 series includes a solid sealant that increases the insulating properties.
The profile front surface width is 60 mm, the pillar inertia moment is from 7.94 to 1137.8 cm4, cross-bars from 7.6 to 82.1 cm4
Infilling
glass from 4 mm and double-glass panes up to 48 mm;
polycarbonate.
TPSK-60500 transparent roof structures can be self-supporting or on a metal frame.
TPSK-60500 ventilation hatches are built into the series to align the pressure outside and inside buildings, provide ventilation and smoke exhaust.
The following opening designs are possible:
manual;
semi-automatic (transom device);
automatic (electric drive).
The TPSK-60500 hatch uses a three-chamber profile with a polyamide thermal bridge and three sealing circuits.
Due to its technical and aesthetic properties, the hatch can be used as a casement with external opening in the stained-glass windows of the TP-50300 series.
Download documents
