Products
TATPROF solutions allow to realize the most challenging ideas of architects
Stained-glass windows MP-50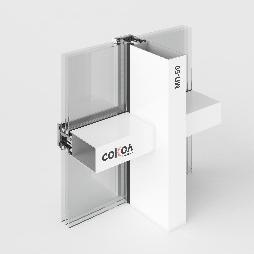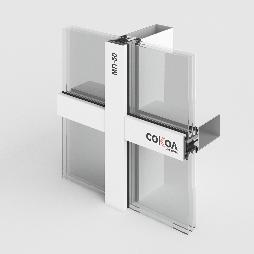 MP-50 Series
is designed for manufacturing of vertical and inclined transparent facades. Aluminum facades are made both in aperture, and as suspended. The suspended facade is fixed to the building wall using steel or aluminum suspended attachment fixtures. The aluminum units design is provided for height adjustment. Door and leaf structures of SOKOL system are easily built into MP-50 facade series.
Facade MP-50 series has 2 design solutions:
• In the first (main) solution the cross-bars are fixed to the pillars in the overlap manner. This solution allows producing stained-glass windows in vertical and inclined designs, single and gable transparent covers due to the guaranteed removal of moisture from the crossbars to the pillar.
• In the second solution, the crossbars are fixed without overlapping. Stained-glass windows are produced only in vertical way.
In MP-50 series the following design solutions are possible:
— Structural facade. This facade gives an illusion of continuous glazing, as the mounting of double-glass pane to the aluminum substructure is invisible. There are no clips and decorative covers on the outside.
— Semi-structural glazing. In this design the visible and hidden fasteners are used in the fixation of one double-glass pane.
— Imitation of structural glazing. Fastening is carried out by a clamp-cap, which protrudes from the surface of double-glass pane only by 3 mm.
Technical characteristics:
• Front surface width of profiles - 50 mm
• Profile section height: pillars from 56 to 240 mm, cross-bars from 34 to 169 mm
• Filling: deaf and transparent, thickness from 4 to 48 mm.
• Maximum filling weight is up to 200 kg.
• The maximum inertia moment of MP pillars is 875 cm (4)
Download documents
